The Disney Cruise Line provides unlimited fun for all ages, especially for 14-17 year olds. Yes, that's right . . . Disney has crafted the perfect no-parents-allowed "club" space for teens to hangout, meet people their age, and enjoy vacation time away from responsibilities: Vibe!
Teenagers usually cringe (sometimes even become mentally sick) at the thought of being stuck at a crowded pool full of screaming kids, having to spend an entire week enclosed in the tight quarters of a stateroom with their family, or being bored out of their mind without internet access. Luckily, Disney is well aware of what a teen really finds entertaining. Through Vibe's counselors and activities, you don't even have time to think about the word "miserable" (unless, of course, it's from eating too many Peel&Eat shrimp and ice cream cones).
The First Day:
PLEASE, PLEASE, PLEASE encourage your teen to check out Vibe on the first night of your cruise. New environments and people you don't know can be overwhelming for some people, but the Vibe counselors make meeting friends easy with games, "Ice Breakers." and the most delicious smoothies. Finding Vibe is actually the hardest part of getting to the fun--it's hidden at the very front of Deck 5, but the entrance is accessible on Deck 4. Explore into the tunnel of the running track, up the white-camouflaged stairs, then through the "Hotline-Bling Tunnel" (the name teens recently dubbed this color-changing entrance). Remember, making friends is the ultimate key to your teen having a blast on your trip!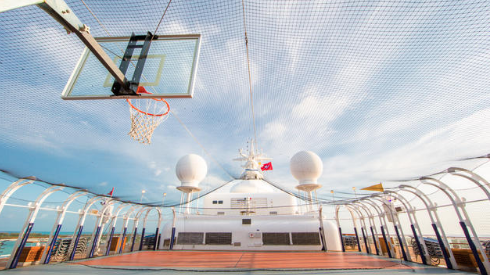 Days at Sea:
Trust me . . . Your teen will NEVER get bored on this cruise. Vibe is fully stocked with the latest Xbox/Wii consoles and games, Just Dance, foosball, it's own private pool, and a drink bar where you can get anything (non-alcoholic) ranging from Coke to exotic mixed drinks like the famous Sarah Sunrise (sprite, pineapple juice, and cherry flavoring). Everyday, the Navigator (a detailed schedule of all the activities aboard the ship) is loaded with special onetime experiences exclusively meant for Vibe teens. This includes learning to DJ with a professional, getting to chat with the theater performers like Aladdin & Genie and learn about their jobs, star in the hilarious Disney Original movie "Zombified", etc . . . Not to mention, Vibe gets certain teen-only hours at Goofy's Sports Deck, mini-golf, shuffleboard, ping-pong, and the Aquaduck water slide. Keep a close eye on the Navigator so that you don't miss out on winning prizes for dominating in foosball, Mario Kart, or Just Dance battles.
Castaway Cay:
The activities of Vibe don't cease once docked at Castaway Cay. In fact, Vibe is extended onto Disney's private island, where your teen and their new friends can play volleyball, soccer, tetherball, learn how to train stingrays, and much more in the "Teen-Hideout"! Also, Wild Side Teen Adventure excursion ($49--which requires you to book in advance) allows you to go snorkeling, cycling, and speedboat riding with the Vibe counselors!
Extra Special Teen Events:
A few events you really DO NOT want to miss include the Pirate Dance Party, Karaoke Night, Glow Jam, and the Zombified movie premiere. Argh, matey! Grab your pirate garb, hop over to Deck 11, and join Vibe's private party section for the Pirate themed dance party and fireworks. Afterwards, challenge the Edge Club in a pirate game show. Secondly, at midnight in D Lounge, Vibe counselors host a huge karaoke battle. Everyone sings along and laughs as hilariously bad and good singers, comedians, rappers, and counselors do their own renditions of Ice Ice Baby, High School Musical, Sweet Home Alabama, etc . . . Next, on one of the last nights of this magical adventure, Glow Jam turns Vibe upside down. Dance the night away, yet again, to the Cupid Shuffle and the Wobble group dances. Peers vote on best hair, brightest smile, best dressed, funniest, and best dancer as you celebrate. Also, everyone decks out in glow sticks and gets white t-shirts for their new friends to sign as a keepsake. Last but certainly not least, the hysterical movie filmed over the past week, Zombified, gets a special showing in the Buena Vista Theater open to the public! At the very end, counselors show a slideshow from the most fun week of your life to say goodbye.
Disney guarantees a magical vacation for everyone, and wow do they go "to infinity & beyond" to help teenagers meet friends, go on epic adventures, and most importantly make fantastic memories that will last a life time!
About the Writer:
Hi, everyone! I'm Maggie Weaver, Alison Weaver's (owner of Kingdom Concierge) oldest daughter. I'm 16 years old, and Disney is my favorite place to vacation because of their unbelievably amazing service, their quality of amenities, and the magic they provide that makes everyone feel like a giddy child again (in the Parks and aboard Disney Cruise ships)
Why am I qualified to tell you how great Disney Cruises are and that Vibe is THE PLACE for your teen to have a blast? Simply because I am a teen who's experienced Vibe, participated in all of these activities, and made unforgettable memories with tons of people from all over the world that I can now call life-long friends. Below are some pictures of my friends and I having fun on one of my past Disney Cruises that will hopefully give you a more personal glimpse into the magical adventure of sailing with Disney!